It's Honolulu Girl's birthday today!

As you can guess the phrase in the title is Hawaiian for Happy Birthday - I have no idea how to pronounce it and I'm not sure if HG/Suzie does either given what a Cali girl she really is.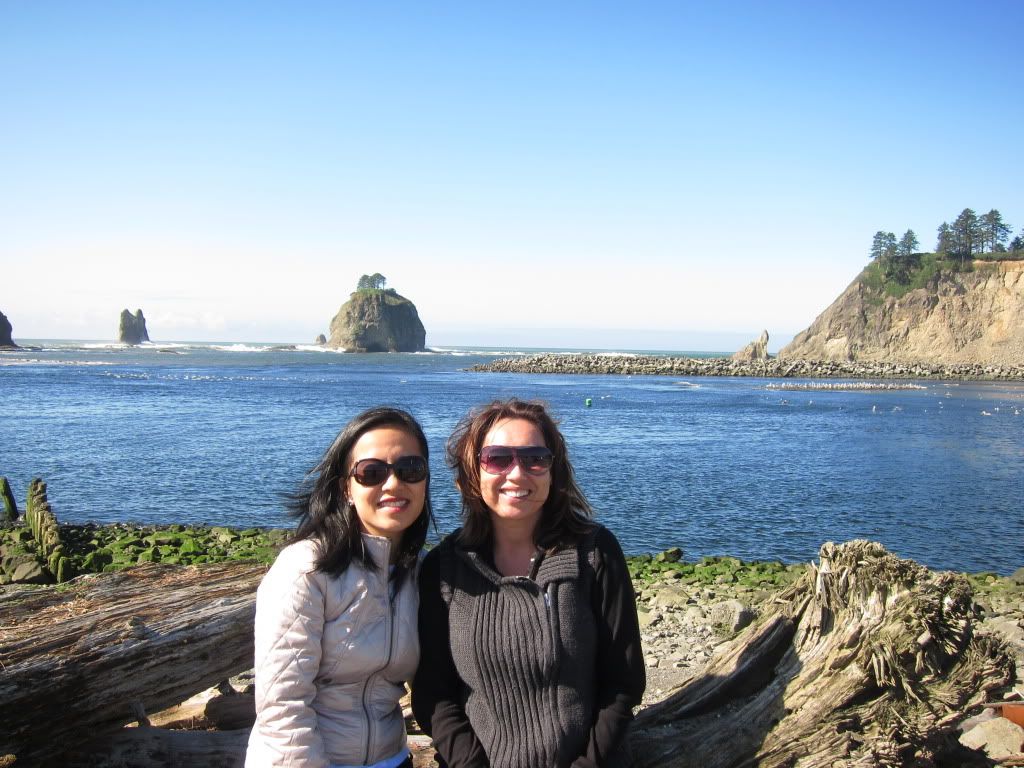 Us at First Beach La Push - gorgeous day!
Remember that Suzie was my
Forks trip roomie
? We met through her blog
True Blood Twilight
a year ago. I am so happy to have met such a kindred spirit in this Twilight blogosphere. If it weren't for us sticking it out together in the small town we probably would have run screaming to the nearest Four Seasons. We clicked from the get go and I'm forever grateful that she convinced me to join her.
This girl is busy - she's got her regular blog
True Blood Twilight
plus a film review blog
I Adore Books and Film
that she shares with her teenage daughter.


She's also a writer of very hot fanfiction

She has a regular day job but her real passion is writing and film. She's now writing film reviews in
Inside Out Hawaii magazine
. Also who can forget her
recent extra work
on
Hawaii 5-0
with the gorgeous
Alex O'Loughlin.
Suzie I feel for you with the closed eyes.
But we're all looking at the cute guy anyways ;)
Since you're now an iPad addict as well I made you some super simple birthday gifts. Remember I've been going for minimalist recently - finding it easier to look through my iPad apps that way.
Click for 1024X1024px.
With a bit of Bella and Edward from Breaking Dawn
Sorry for not making you a True Blood one but with all the RobPorn on my computer there isn't any space for Alex Skarsgard :)
I will however throw in a pic that someone else made with my little message added :) Thought this desktop was very pretty.
Here are some messages from
kiTT at Tongue-Twied
And an awesome video kiTT made. Gotta love the 80's
Robmusement
And
Lisa
Happy Birthday my dear! Love you and miss you so!